This is a great book for the ones that love horses, it is the first in the series and I recommend the whole series to anyone that loves horses! The Phantom Stallion is the first series and it's about Sam who has an accident and looses her horse Blackie into the wild. But after 3 years she is driving back home from San Francisco with her Aunt Sue but while she is driving home she sees a white horse is it Blackie or not?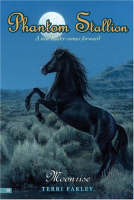 I enjoyed this book because it is attachable and an amazing story. I got it out three times because I enjoyed the book so much. I am now in the middle of the series two and I am enjoying the book as well.
The info on the back:
It's been two years since Blackie, the horse Sam raised from a foal, threw her in a near-fatal accident. She's been separated from her family, her ranch and the wild mustangs she loves. Now she's home again, but her beloved Blackie has been missing since the day Sam was injured.
Then, on the night she returns, a mustang comes to Sam. Is it Blackie, grown up and gone wild? Is it the legendary stallion known as the Phantom? Or could it be both?
Hope you will enjoy this book!